Ten Digital Marketing Changes of 2016 and Their Implications

There are plenty of articles and blog posts trying to predict digital marketing trends for 2017. You won't get that here. We thought it would be more useful to offer clients and readers a list of marketing changes or innovations that occurred in 2016 (some of them flying under the radar), along with their implications. This is by no means a comprehensive list. It highlights only a handful of changes we felt were interesting or noteworthy.
Estimated read time = 7 mins
Our top 10 list of marketing changes in 2016 were (in no particular order):
#1. GOOGLE LAUNCHES EXPANDED TEXT ADS, AND FOUR ADS AT THE TOP
You likely noticed the extra real estate (50% more space) taken up by ads at the top of search results even if you missed Google's official announcement in July.  It was hard to miss. That's because Google expanded the character limits of ad headlines and body copy for the first time since introducing text ads in 2001. The old 25-character headline format gave way to two, 30-character headlines, while the 70-character body copy format grew to 80. Prior to that, in February, Google quietly tested and rolled out a fourth ad at the top of search results (versus 3 before), AND completely eliminated text ads down the "right rail" or middle of search results.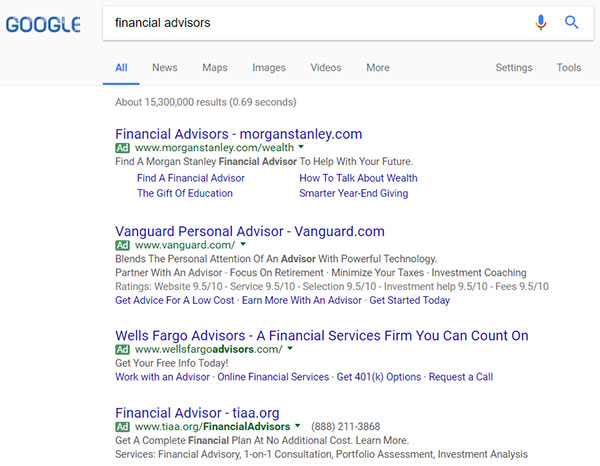 So what?  This change has pros and cons for businesses using Google ads.  On one hand, it means more room for brand messaging and the possibility of more clicks and better click-thru-rates with top of results positioning. (The jury is still out on this one.)  BUT, it could also mean paying higher costs per click for "top of page" bidding. There's no in between. You pay to get on the top of the page, or face the underperforming likelihood of bottom of the page ads.
#2. FACEBOOK GAVE PAGES A MAKEOVER
So what?  The result of both updates is a much cleaner look that gives businesses a prominent call-to-action button, and a more inviting navigation menu versus its former "tabs" format that was often overlooked (in our opinion). Bottom line: The changes can only increase consumer engagement with brands.
#3. GOOGLE MAKES PENGUIN (4.0) REAL-TIME AND SOFTENS THE BLOG OF PENALTIES
For those unfamiliar, Penguin is a portion of Google's search algorithm that is designed to combat spammy link building efforts by black hat SEO practitioners. It monitors and flags inbound links that are paid for (not naturally earned) or the result of link farms that are designed to boost a website's ranking in search results. In prior versions of Penguin, any websites hit with a "penalty" could see a significant drop in organic search visibility and traffic. Being hit with a penalty was often dramatic since Penguin would punish an entire site – not just a specific page with spammy links – and it would take a half-year or more to recover while waiting for the next algorithm update.
Not anymore.  Google announced in September the launch of Penguin 4.0, which features real-time updates and more granular, page-level penalties. It also announced that this will be the last Penguin update since it is now part of the Google's core algorithm.
So what? E-commerce sites dependent on organic search traffic can recover more quickly (less lost revenue due to downtime!), and will face "lighter" penalties since the newest update will "devalue" specific webpages (with spammy links) rather than demote and remove entire sites from showing in search results.
#4. YOUTUBE, FACEBOOK AND TWITTER UNVEIL LIVE, 360-DEGREE VIDEO BROADCASTS
Three hundred and sixty degree video took a step closer to reality this year for small businesses, non-profits and start-ups lacking the video production and editing resources of major brands. YouTube launched 360-degree live streaming videos in April, which cuts down on the number of cameras needed (to one!) for filming and bypasses tedious editing practices. YouTube is working with two, 360-degree camera companies; one camera is $500 and the other $1,800. Then, in December, Facebook announced its own plans to rollout live 360-degree video broadcasting, followed closely by Twitter.
Never seen a 360 video?  Here's an example:
So what?  So what's the big deal about 360-degree video and what could it mean for small businesses? A lot. Imagine you're a marketer for a museum that's opening a new exhibit. Wouldn't you want to give folks a 360-degree tour and promote it on YouTube, Facebook or Twitter?  Now imagine you're a small kitchen cabinet company having finished a $80,000 kitchen with amazingly detailed features. Or perhaps you're a local zip line company, etc.  You get the point, and that is 360-degree video is the closest thing to "being there" and poses huge marketing opportunities.
#5. GOOGLE ANALYTICS INTRODUCES THE USER EXPLORER REPORT FOR GRANULAR INSIGHTS
One of the chief complaints about Google Analytics is its aggregate data reporting. GA offers insights into how large groups of website visitors behave and where they came from. We've had many clients want to know how individual site visitors behaved, including what they read on the site and for how long, how often they visited, etc.  This wasn't possible in the past.  But that was until Google introduced the user explorer report this year. User explorer shows visitor clickstreams on an individual level.
So what?  This means a significant win for the sales team. Let's say your business only receives a handful of leads each week from its website completion forms. Your marketing manager now has the ability to tell the sales team which products or services the prospective customer was viewing on the site, whether s/he viewed a product comparison chart, and more. Your sales rep now has a better idea of how to start the conversation and, hopefully, improve their ability to close a sale.
#6. INSTAGRAM ROLLS OUT "STORIES" AND TESTS STORY LINKS
Does your organization have a target audience younger than 35?  Then this is relevant for you. Instagram rolled out several updates this year, but two significant changes were the introduction of stories and the testing of call to action links to go with them. Stories string together images or videos, and give users the ability to add text or drawings within the app. The addition of a link at the end of a story gives businesses a significant opportunity to drive consumers to a promo or product page for more information.
So what?  This is perhaps one of the most significant ways for businesses to engage with consumers on Instagram (to date). Brands like JCrew, Starbucks and others have tried it. But it's certainly not beyond a small business' reach, especially one that targets Millennials. This could be a good tactic to try once it's made more widely available in 2017.
#7. LINKEDIN MAKES "INMAIL" PART OF ITS SELF-SERVE PLATFORM
Hallelujah. InMails are finally self-serve. For those unfamiliar, InMails are those sponsored messages you receive within LinkedIn. You've likely received one from an HR recruiter, a local university promoting a degree program or even Sam's Club, such as the example below. InMails experience VERY good open rates and are a solid lead generation tactic, especially for B-2-B efforts, HR recruiting and higher education marketing. (Sam's Club not so much.)
So what? In the past, InMails required advertisers to work with LinkedIn staff based out of NYC. It would take 3-5 days to setup and test (many times), and LinkedIn often required 1-2 weeks advance notice. Self serve has sped up the process and offers a smoother execution for those trying InMails for the first time.
#8. GOOGLE PLAYS "POSSUM" WITH QUIET LOCAL SEO ALGORITHM UPDATE
This September, Google made a significant algorithm update that the company has left unconfirmed when asked. The SEO community has taken to calling it Possum, and it only affects searches with local intent (e.g. "barber shops chicago", "italian restaurants nyc," etc.). This update brought with it two major changes:
Google now shows search results based on the person's physical location / IP address
It shows only 1 listing for each business address and therefore eliminates duplicates
So what?  This change is good news for most local businesses. Before this change, it was extremely difficult to appear in the "3-Pack" (see below) at the top of search results if your business fell just outside of city limits.  For example, a business in Cambridge, Mass., could not appear in the local pack for user searches of a similar business in Boston.  Those outside the city limits had no shot. Now, that's all changed.  Your Cambridge business could show for Boston searches if and when the searcher is physically close to the Boston/Cambridge line. The update also means that businesses only get one listing (by address) in search results. This opens up huge opportunities for businesses that couldn't compete with others that had multiple listings appear in results. Google has essentially leveled the playing field.
#9. FACEBOOK RELEASES CUSTOM AUDIENCES BASED ON TIME ON SITE*
So what? Most businesses don't realize there are a lot of accidental clicks on Facebook ads. (People who unintentionally clicked on a mobile ad while scrolling through their News Feed, but quickly close out of a site.)  There are also a lot of folks who "bounce" from (or leave) a site after reading only one page.  This update helps businesses remarket to visitors beyond those two groups. Marketers can now choose to show remarketing ads to serious shoppers who are more likely to convert.
*If you do not see "time on site" as a Custom Audience option, don't be alarmed. You may not see it appear until the end of Q1 or Q2 in 2017. Facebook takes months to roll out its announcements.
#10. GOOGLE REMOVES KEYWORD VOLUME FOR LOW SPENDING AND INACTIVE ADVERTISERS
Many businesses know about Google's Keyword Planner and how powerful it is. Keyword Planner reveals consumer search trends, with the ability to geo-target – by countries, states, cities/towns and more – and even look at the most popular months for those search terms.  Keyword Planner is free for anyone with a Google account (if you have a gmail address, you have an account).  But that all changed this year. Google now limits the data for businesses that have low AdWords budgets or are inactive altogether. Instead of providing exact volumes for each keyword, Google now shows huge ranges of search volume for keywords.
Here's Keyword Planner data BEFORE the update:
Keyword planner data AFTER the update:
So what?  The wide data ranges render Keyword Planner useless. This is a huge disadvantage for small businesses with "low spend levels," without Google defining what that means exactly. (We assume it means less than $15/day or $450/month.)  Small businesses will now need to select keywords by intuition rather than solid data, nor will they have any true idea of consumer trends.  It's disappointing to say the least.
So that covers it.  Our top 10 marketing innovations for 2016, nearly all of them good news for marketers. Who knows what the new year will bring, but we hope you found this update useful and we wish you a prosperous 2017!
Have Free Insights Delivered to Your Inbox.